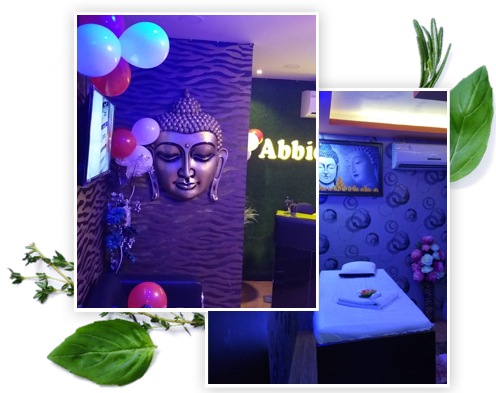 "ABBIOCCO SPA" is the brand of ABBIOCCO SPA PVT. LTD. that AIMS to lead the wellness and hospitality industry with its aspiring & innovative team of experts committed towards high quality service. In our everyday lives, as we run to achieve our personal and professional goals, we forget all about really enjoying life and its moments, we forget to pause and relax. "ABBIOCCO UNISEX SPA" has been specifically conceived keeping in mind the exhausting demands of a busy schedule, the adverse consequences of a modern lifestyle on our body, mind and soul. In ITALY, the word 'ABBIOCCO' means I Want. Spa is inspired by the Professional techniques uses which symbolize the two most powerful yet tranquil elements of nature.
Complete Detoxification
When you undergo our total detox package, it's a rebirth!
Effective Treatments
Time tested treatments for total relief from stress, strains and tensions
Herbal & Natural
Our treatment is safe from any kind of side effect as it is pure & natural.
Naturally Spa
Natural Spa uses their own organically grown herbs from their garden.
Steam Bath
Steam bath relieves the body and mind of stress and relaxes the muscles.
Trained Professionals
The team @ Natural Spa is experienced… so you are in safe hands!
Testimonials

Customer reviews
I used Spa Services through Abbiocco Massage during My Delhi Trip and I'm relly impressed with their amazing services. Very Professional Spa therapist. I would Highly recommend !!!
Shalini Singh
New Delhi
The service was excellent, very professional staff and very friendly.& Wonderful and very relaxing! Just what I needed!.
Ashutosh Mishra
New Delhi
Me and the family headed there straight after my wedding festivities to unwind. The experience and service was brilliant and as per all international standards! It's definitely going to become a regular feature for us. Keep it up!
Abhishek Kumar
New Delhi
Best spa I have ever been to. Try their Thai massage an you will feel immense feeling of relaxation and ease. Economic as they require nominal charge for their services. Must Visit.
Himanshu
New Delhi
I had one of the best head massage and pedicure. Need more sitting as I had to wait for 15 min. Worth a wait though!
Shivani Sharma
New Delhi